Users identities are now at the core of your business. Vennetics Identity and Access Server is an identity repository built to manage all types of cross-channel customer identity data, automatically maintaining privacy compliance and stores user records securely.
The data that can be most useful for network operators to improve their business, can typically exist within a number of different silos, which are resident across various network functions. The Vennetics IAS platform provides a single unified method of identifying the subscriber data within each of those silos, incorporating a design that is fully configurable and extensible for adding new integration points.
Using the Vennetics IAS, all applications that access subscriber information can be implemented with a unified and standardised mechanism of obtaining this data access. Network operators can then retain a single access management point for establishing the commensurate security rules and permissions. The information is presented in a personalised and standardised format to both the owners of each network function and the overall business management representatives.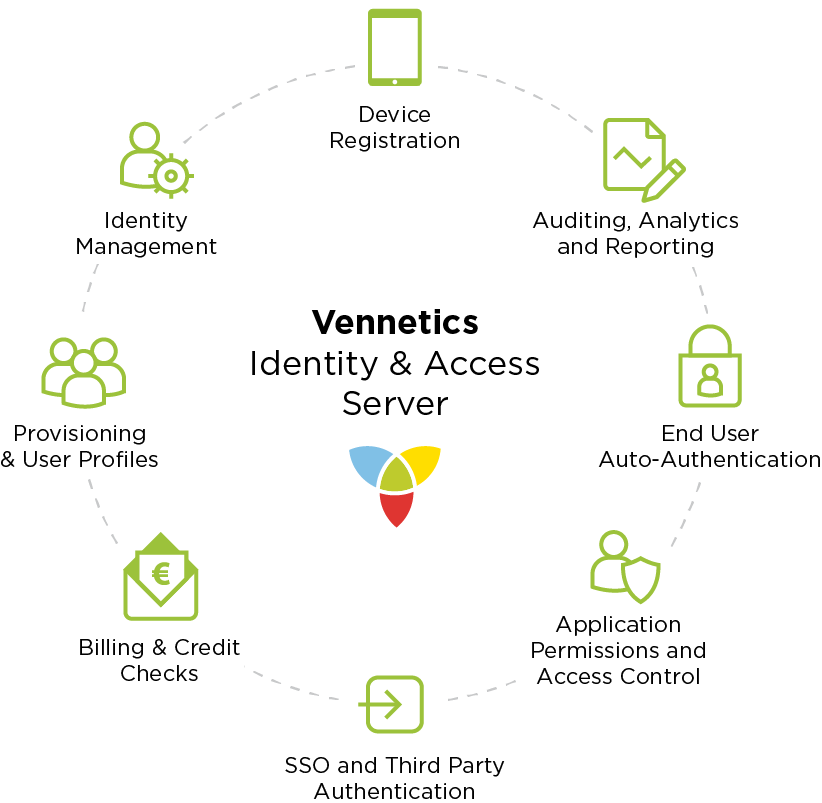 Auto-authentication of subscribers using cellular network information
Creation and management of application and subscriber identities, including permissions and access control
Supports both server to server and device / application to server call-flows with implicit and explicit authorisation mechanisms
Supports subscriber opt-in and opt-out of services
The IAS Platform includes a RADIUS Accounting Server for tracking cellular subscribers network state in real time
A suite of open RESTful APIs including:

Auto-provisioning of subscribers to network services
Device management across multiple applications, including registration, configuration and translation services
Aggregated account query information
Service eligibility verification using configurable rules

IMS profile queries
Support for multiple authentication protocols for applications including:

OAuth, Basic, Digest, HMAC, AWS, SMS OTP
OpenID, SAML, LDAP, Kerberos, SSO (Google, Twitter, Facebook, etc.)
Improved user experience through auto-authentication and SSO
Enhanced security profiles at a fine granularity across various application
Simplified auditing and reporting across many network functions
Increased productivity within business analysis and reduced IT costs